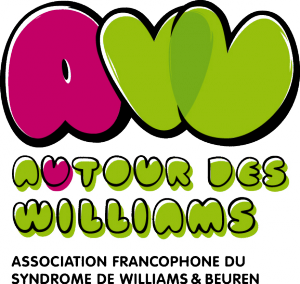 Autour des Williams association was created in 2003 by two generous parents whose children were both diagnosed with Williams & Beuren syndrome. Their purpose was to bring together individuals who, like themselves, wanted to help, support and improve the lives of people living with Williams syndrome. It has over 200 families as members.
We are proud to have two remarkable and dynamic patrons: Alexia Laroche Joubert and Emmanuelle Gaume. Autour des Williams and its members actively organise and coordinate fundraising events and awareness campaigns aimed at:
Bringing together, providing support and up-to-date information to families and carers about all aspects of Williams syndrome. Each year we organize an Annual Family Gatherings. In 2008 we created a "Healthcare Guide for Children" and organised an International Medical Meetings.
Financing medical and scientific research programs and studies about Williams syndrome. We have created a "Medical & Scientific Advisory Board". In the last 9 years, we contributed 330 000 € towards scientific research programs for Williams-Beuren syndrome.
Raising awareness of the general public, the authorities and the medical community about Williams syndrome.
Finally, together with our outstanding MEMBERS who are also active Fundraising Volunteers, Autour Des Williams hosts Cultural, Sporting and many Unique events in France and around Europe.
Ariéla Zerbib

Ariéla is the mother of a lovely and cheeky 6 years old girl, who was diagnosed with Williams Syndrome when she was 20 months old. Ariéla lives and works in London as a French Tutor. She has been the representative of Autour Des Williams for FEWS for the last three years.